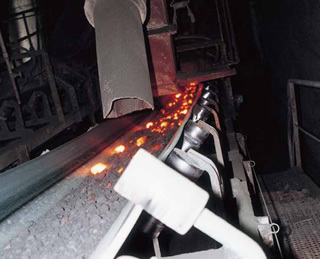 Bando Heat Carry™ Conveyor Belts
Bando's ultra-high heat and abrasion resistant conveyor belt lineup is specifically designed and compounded to yield exceptionally long service life. Heat Carry™ conveyor belts are used in applications where extreme material temperatures (up to 850°F) are expected and wear resistant product is a must.
Applications
Cement plants (clinker, cement products, dry clay, etc.)
Steel mills (sintered ore, coke, pellets, slag, etc.)
Foundries
Taconite
Features
Superior resistance to heat and abrasion
Molded edged belts manufactured to width
Dependable vulcanized splices
Performance
Handles material temperatures up to 850°F
Superior adhesion between the cover rubber and core body when exposed to heat
Lasts up to 50% longer than conventional heat-resistant belt
Contact Daiki.Suehiro(at)bandogrp.com for conveyor belt information.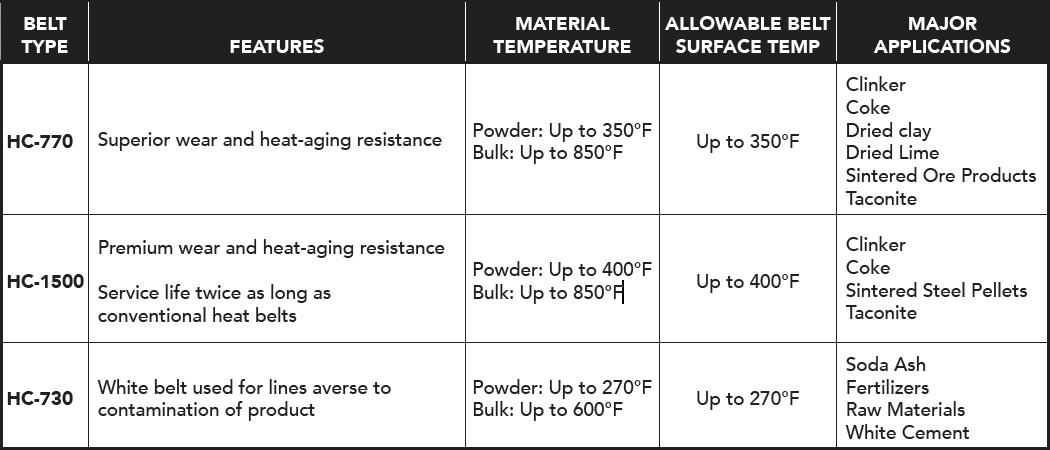 Note: Use flame-resistant belts if any oils other than vegetable oils are in or adhering to the materials being transported.
《Applications that must be avoided》
1. Applications that must be avoided for all heat-resistant conveyor belts
・Avoid materials that contain or have on their surface other oils than vegetable oil even a little.
・Avoid applications that require flame resistance.
2. Applications that must be avoided for Heat Carry HC-710, HC-730, and HC-770 conveyor belts
・Avoid conveying powder materials at 180ºC or higher.