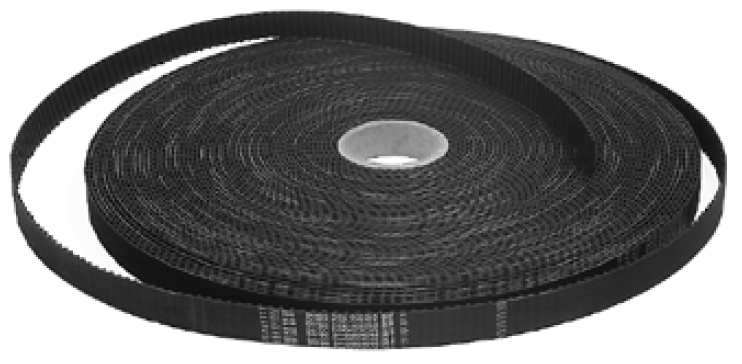 Synchro-Link® Open Ended Timing Belts
Synchro-Link® Open-Ended Timing Belts
Synchro-Link® Open Ended Belting is available in RMA and metric pitches in both neoprene and polyurethane construction. A number of configurations are offered to satisfy most applications requiring synchronization and specialized uses such as conveying, positioning, metering, etc.
Optional constructions available. Contact Bando for special requirements.
Click here to find an authorized Bando distributor or call (800) 829-6612.

Rubber
Part Number
Roll Length (feet)
Approximate Weight (lbs.)
MXL4.8-OPEN
137
0.507
MXL6.4-OPEN
101
0.499
XL025-OPEN
173
1.986
XL031-OPEN
14
1 1.998
XL037-OPEN
114
1.968
XL050-OPEN
85
1.949
XL075-OPEN
108
3.71
L050-OPEN
160
5.185
L075-OPEN
104
5.079
L100-OPEN
154
4.512
H075-OPEN
137
9.236
H100-OPEN
101
9.09
H150-OPEN
131
17.593
H200-OPEN
91
17.42
H300-OPEN
55
14.954
50-S2M-OPEN
131
0.882
60-S2M-OPEN
114
0.741
70-S2M-OPEN
98
0.741
80-2SM-OPEN
164
1.411
50-S3M-OPEN
164
1.268
60-S3M-OPEN
131
1.217
60-S4.5M-OPEN
147
0.738
100-S4.5M-OPEN
131
1.093
100-S5M-OPEN
131
3.422
150-S5M-OPEN
131
5.132
200-S5M-OPEN
98
5.132
250-S5M-OPEN
78
5.132
150-S8M-OPEN
164
9.127
250-S8M-OPEN
98
9.127
400-S8M-OPEN
124
18.497
600-S8M-OPEN
78
17.524
White Polyurethane with Steel Cords
Part Number
Roll Length (feet)
Approximate Weight (lbs.)
50-S2M-OPENU
196
1.508
100-S2M-OPENU
196
3.016
150-S2M-OPENU
196
4.524
200-S2M-OPENU
196
6.032
250-S2M-OPENU
196
7.54
300-S2M-OPENU
196
9.048
350-S2M-OPENU
196
10.556
400-S2M-OPENU
196
12.064
60-S3M-OPENU
196
1.931
120-S3M-OPENU
196
3.862
180-S3M-OPENU
196
5.793
240-S3M-OPENU
196
7.724
300-S3M-OPENU
196
9.655
360-S3M-OPENU

196
11.586
420-S3M-OPENU
196
13.517
480-S3M-OPENU
196
15.448
100-S5M-OPENU
164
3.814
150-S5M-OPENU
164
5.721
200-S5M-OPENU
164
7.628
250-S5M-OPENU
164
9.535
300-S5M-OPENU
164
11.442
400-S5M-OPENU
164
15.256
500-S5M-OPENU
164
19.07
150-S8M-OPENU
98
5.714
200-S8M-OPENU
98
7.619
250-S8M-OPENU
98
9.523
300-S8M-OPENU
98
11.428
400-S8M-OPENU
98
15.237
500-S8M-OPENU
98
19.047
750-S8M-OPENU
98
28.57
1000-S8M-OPENU
98
38.093
XL025-OPENU
164
1.552
XL031-OPENU
164
1.924
XL037-OPENU
164
2.328
XL050-OPENU
164
3.104
XL075-OPENU
164
4.656
XL100-OPENU
164
6.208
XL150-OPENU
164
9.312
XL200-OPENU
164
12.416
L050U-OPEN
164
5.071
L075U-OPEN
164
7.606
L100U-OPEN
164
10.141
L150U-OPEN
164
15.212
L200U-OPEN
164
20.282
H075U-OPEN
164
8.656
H100U-OPEN
164
11.542
H150U-OPEN
164
17.313
H200U-OPEN
164
23.085
H300U-OPEN
164
34.626
H400U-OPEN
164
46.168
10T5-OPEN
164
2.436
15T5-OPEN
164
3.654
20T5-OPEN
164
4.872
25T5-OPEN
164
6.09
30T5-OPEN
164
7.308
40T5-OPEN
164
9.744
50T5-OPEN

164
12.18
15T10-OPEN
164
7.871
20T10-OPEN
164
10.494
25T10-OPEN
164
13.118
30T10-OPEN
164
15.741
40T10-OPEN
164
20.988
50T10-OPEN
164
26.235
75T10-OPEN
164
39.353
100T10-OPEN
164
52.47