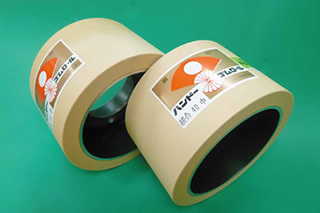 Rice Hulling Rolls
Bando Rice Hulling Rolls
Bando's well-known fan-labeled rice hulling rolls enjoy great success in the agricultural market.
Features:
Excellent durability, long-lasting
Excellent husking efficiency, with optimal hardness
Balanced hardness and elasticity, with minimal damage to the rice grains
Available in white or red synthetic rubber
Using "Red Roll" for the main shaft and "White Roll" for the sub-shaft results in maintenance-free operation, with an extremely long life.
Applications:
In consideration of usage amount and cost,
White Rolls are recommended for normal use by individual farms
Red Rolls, excellent in abrasion resistance, are recommended for use by cooperatives, country elevators, or large-scale individual farms
Contact Daiki Suehiro for more information.